Talking Ben Vs Huggy Wuggy in the Poppy Playtime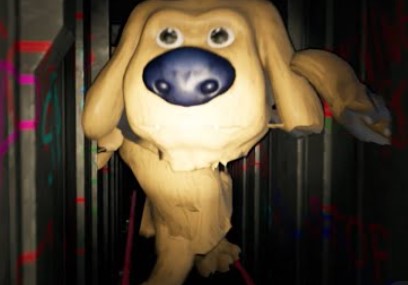 Everyone knows funny Talking Ben, a smart dog that understands human's language and can communicate with players. But he is a bit bored to just sit and talk. So this hero decides to look for something more thrilling. You will be surprised but the brave dog has a plan to visit the abandoned toy factory. He does not want to listen to his friends' warnings and heads straight inside the old building to look around. But the poor dog does not imagine what awaits him inside! The place is not empty as he expected. On the contrary, there are many inhabitants here. Talking Ben will face dozens pairs of eyes staring at him from everywhere? Who is here? These are live toys! Some power breathed life into these friendly plush creatures but turned into real monsters. And one of them is really dreadful. A three-meter high blue giant is ready to attack at any moment. Many of his victims were misled by his wide grin.
Huggy Wuggy used to be a peaceful toy years ago, but now this ominous smile cannot be interpreted wrongly. You should always remember that approaching too close to him may cost you your life. Unfortunately, Ben does not seem to know all corridors and rooms in this old factory as well as his main opponent does. He will need to be very careful moving around as Huggy Wuggy feels himself at home in this gloomy environment. He can move motionlessly and find his way even in the complete darkness. Talking Ben should be especially cautious not to get lost in the ventilation shaft as it is the favorite place of the antagonist, and he will catch you here in no time. Help the hero to explore everything around. Possibly he will be lucky enough to find some hints on the weird events of the past and open the secret of mysterious disappearance of people from here years ago. Who can stand behind all this? You will need to help Ben go through many thrilling quests to find out the terrible truth. Are you ready for this challenge? It is going be full of thrills and dangers, and you need to guide the hero through all of them skillfully enough if you want to defeat the treacherous monster and find the clue to this mysterious story. You will enjoy spooky atmosphere and lots of jumpscares!